Creative Photos and Longform Journalling. (Radio Friday)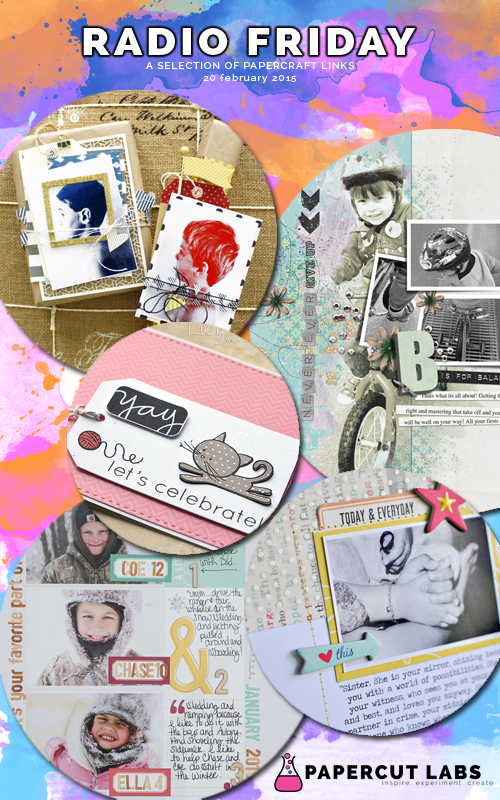 This week on Radio Friday we're linking to creative photos and longform journalling. We've included links to cards, interviews with loved ones, layouts featuring long stories, digital scrapbooking and intriguing gift wrapping. As always, a reminder about what Radio Friday is about:
Radio Friday is a selection of five links taken from our weekly newsletter PAPERCUT WEEKLY. If these links inspire you, intrigue you, or make you want more, think about signing up to the newsletter (link at the bottom of the post).
Let's get it started!
ONE. Absolutely love this type of wrapping that Kim Jeffress has created for Valentine's Day. Simultaneously a 'from' tag, while also being interesting and different from everything else out there!
TWO. One of the things I love about digital scrapbooking is how you can creatively use your photos on layouts. Em Stafrace is the master. (I may be a little biased.) They're not just straight printed photos anymore–they're pieces of art!
THREE. We featured Lucy Abrams last week, but this week is for the cat lovers out there. (Including myself.)
FOUR. Long stories, long pieces of journalling seems to be making a come back. October Afternoon's CT posted two beautiful layouts this week showing just how journalling can be a gorgeous feature on layouts–not something you need to hide.
FIVE. We all want to capture the here and now. Why don't you try to interview the people around you and include it on your page or in your pockets?
That's it for this week, so until next time… Don't forget: you can sign up to Papercut Weekly at anytime. You'll automatically start receiving the next one.