Bright layouts and mesmerising mini-albums. (Radio Friday)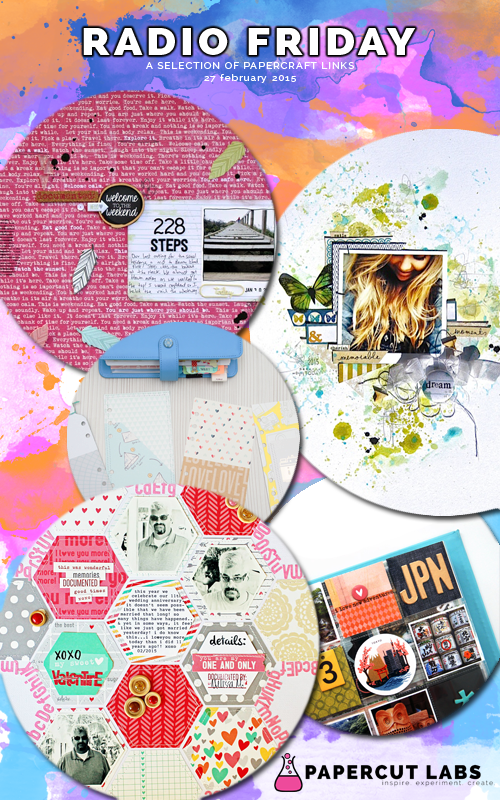 This week on Radio Friday we're linking to bright layouts and mesmerising mini-albums.  We have included a link to a Japan travel mini-album, stunningly bright layouts, a beautiful patterned paper backgrounds and extra DIY planner pockets. As always, a reminder about what Radio Friday is about:
Radio Friday is a selection of five links taken from our weekly newsletter PAPERCUT WEEKLY. If these links inspire you, intrigue you, or make you want more, think about signing up to the newsletter (link at the bottom of the post).
Let's get it started!
ONE. Sharmaine Kruijver is a CT member of Cocoa Daisy, so when she posted her layouts from the February kit…well, you can see the result above. Two more layouts are found at the link.
TWO. Gina Rodgers has a beautiful and unique style of scrapbooking. Lots of white space, lots of ink and paint. It appeals to the minimalist in me. She was asked to to guest design for Studio Fourteen40.
THREE. This week is heavy on the Cocoa Daisy. For good reason, though. They have a tutorial up on their blog for making your own planner pockets. A must if it carries around your life.
FOUR. Geralyn Sy went to Japan in 2012. She's now found the perfect way to document that trip: a 6×8 travel mini-album. I'm particularly loving the 2in pocket title page.
FIVE. Last, but not least, Elle's Studio CT Member Melissa Mann created an awesome quilty background / feature for a travel layout. The sciences and maths side of my brain is pleased with this layout.
That's it for this week, so until next time… Don't forget: you can sign up to Papercut Weekly at anytime. You'll automatically start receiving the next one.
Also a note: on Sunday, you can start signing up for our new class Stress Free Pockets!