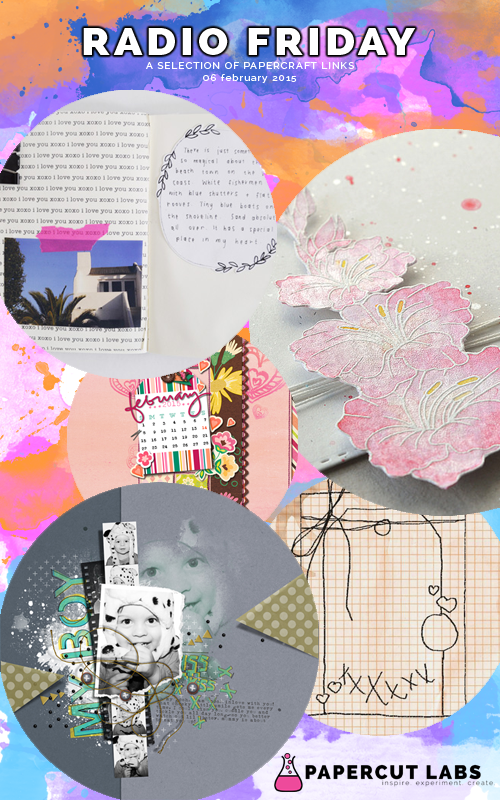 It's that time of the week again! Radio Friday is here! As always:
Radio Friday is a selection of five links taken from our weekly newsletter PAPERCUT WEEKLY. If these links inspire you, intrigue you, or make you want more, think about signing up to the newsletter (link at the bottom of the post).
Let's get it started!
ONE. This week over at Paislee Press, Caylee Grey created a moleskine cahier mini-book. I'm absolutely in love with it. The images show each spread of Caylee's book and I can't help thinking this is a great way to document on the go.
TWO. Lucy Abrams is a daily go-to source of card-making inspiration. This week, Lucy created a card a day using Clearly Besotted stamps. I would link to each and every card, but Lucy's already done that with her recap.
THREE. Basic Grey are giving away a desktop wallpaper with a February calendar on it. It's gorgeous and would probably work on tablets as well. (I haven't tried that yet though…)
FOUR. If you haven't heard of Retro Sketches yet, you should probably pop over there now and check out their amazing archive of sketch inspiration. They also announced sketch #151 this week.
FIVE. Last, but not least, Em Stafrace posted on her blog again. Finally. I miss Em's digital inspiration. Lucky for us, she's opened up her own digital store called The Nifty Pixel last month and it's an amazing space as well.
That's it for this week, so until next time… Don't forget: you can sign up to Papercut Weekly at anytime. You'll automatically start receiving the next one.