As we get further and further into this Crop & Hop (my new favourite term!), it occurs to me that there is quite a bit of confusion around what exactly is going on. So, this is your one-stop shop for all the details you need. And since I'm a fan of interviews and FAQ sections (yeah, I know, weird), I'll pretend you're all asking me questions.
So, Elle, what exactly is this 12 Days of Christmas thing that Papercut Labs is hosting?
About three months ago, I knew that Papercut wasn't going to have a December class (as such, but since then, our Fun & Funky Christmas class has become free!), and I wanted to do something fun for December. I'd been watching all these crops appear on FB, and thought they sounded like and looked like fun. So, I had a crop. But, if you know me, you'd know that I don't stop at one idea. So how could I make it better? Find a bunch of businesses that wanted to give away prizes and provide inspiration for all your Christmas crafting. Hence the 12 Days of Christmas Crop & Hop was born!
---
Okay, so there's an online crop? Where?
The crop is happening until 20 December on Facebook.
---
Can I assume that there is a blog hop that accompanies it?
Absolutely you can! The blog hop starts on the Papercut Labs blog on Monday 8th December. The list of participants is below:
Monday, 8 December 2014: Papercut Labs
Tuesday, 9 December 2014: A Piece of Cake Designs
Wednesday, 10 December 2014: Kellie Stamps
Thursday, 11 December 2014: Heidi Swapp (via Kim Jeffress)
Friday, 12 December 2014: The Scrappery
Saturday, 13 December 2014: Seriously Scrapbooking
Sunday, 14 December 2014: Maya Road (via Angella Peardon)
Monday, 15 December 2014: Stampin' Up!
Tuesday, 16 December 2014: Scrapmatts
Wednesday, 17 December 2014: D-lish Scraps
Thursday, 18 December 2014: Studio Calico (and Natalie Elphinstone)
Friday, 19 December 2014: Papercut Labs
I'll be updating this list with links as the blog hop happens.
---
You mentioned a giveaway? How do we win one of those?
Everyone who joins the crop party event goes into the draw to win one of twenty-four prizes (two from each sponsor, and four from us).
However, to improve your chances of winning one of the giveaways, you can:
a.  Create a project (card, layout, OTP, something paper-y) inspired by the challenges and upload it to the event page. Doing this, you'll receive SIX entries into the giveaway draw. (Make sure you tell us which challenges you used!)
b.  Comment on a project on the event page, and you'll receive another one entry into the giveaway draw.
---
Oh, now, that's interesting. What are the challenges?
(You can use the challenge number to let us know–just click on the image to see the challenge number in the bottom right-hand corner.)
---
Do the projects have to be Christmas-related?
Unless you're using challenge 12 ("Must be Xmas-y"), no.
---
Is there a leaderboard?
The leaderboard is updated every couple of days, and a new one will be uploaded later today. Check back soon!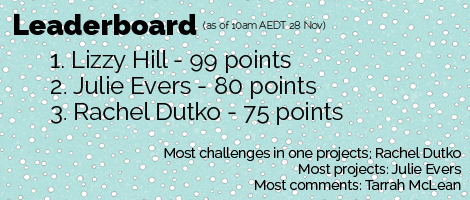 ---
I noticed that Spotlight, Kaisercraft and Caprice are on the banner, but not in the blog hop, what's going on there?
Spotlight (who have joint forces with Kaisercraft and Caprice) are sponsoring our 'participation' prizes. There are three participation prizes:
1. Most challenges in one project
2. Most projects
3. Most comments
If, on the 20th of December, we have multiple winners in any of those categories, we will have to draw the winner out of a hat.
---
What are the prizes?
Many prizes are best shown in photos, so some of the links will be images — I suggest you take a look!
Papercut Labs (us!) is giving away the entire suite of their current classes, PLUS all classes until April next year. (Excluding any kits that may or may not come with classes.)
A Piece of Cake Designs is offering two of their kits to lucky participants. (Image one, image two.) (P.S. Did you know they're also selling digital goods now? Some beautiful stuff is available from them right now.)
Kellie Stamps is one of my go-to stamp stores. We were lucky enough to interview Kellie, and the stamp sets she's giving away are a bit of a surprise, so I'll leave you with this image.
Heidi Swapp is all glitter and glam and you know you want to win one of these prizes. HS gear is perfect for Christmas memory documenting, you can't go past glitter at Christmas!
The Scrappery: a new kit club on the scene, with exclusively designed pieces, they are sure to be a huge success. Get in now while they're still young: prize one, prize two.
Seriously Scrapbooking: an Australian staple in scrapbooking. They're giving away a HUGE amount of product to two lucky people. You know you want this happy mail arriving on your door.
Maya Road: These prizes are being sponsored by Maya Road DT member, Angella Peardon, and we couldn't be happier with what she's pulled together for you. Prize one, prize two.
Stampin' Up! have outdone themselves with these two prizes, which, when the blog happens, you can use to create the projects! I didn't want to take any of the prizes out of their wrapping: there's a bunch of designer papers, lots of card stock, some die cut tools, inks and stamps.
Scrapmatts is a completely Australian owned and run company and have helped me out more times than I can count. They have two beautiful sets of chipboard to send your way if you're the lucky recipient of their giveaway prize!
D-lish Scraps prize one and prize two will definitely boost the prettiness of your stash. I can only imagine what you'll create with these beauties.
Studio Calico is a staple in papercraft worldwide. So when they offered a three-month card subscription and entrance to their popular Send Joy class, I jumped at the change!
Spotlight (including Kaisercraft & Caprice) is giving away three prizes worth $200 to those who participate the most. Prize one, prize two, prize three (same as prize one).
There is some serious scrapping that can be done with ALL of these prizes.
---
When are the winners announced?
Prize winners will be announced on the Papercut Labs blog on 22nd December. Since it's such a busy mail time of year, all prizes will be sent in January.
---
Any more questions, leave a comment below and we'll add it to the list!