Mixed Media Art Journal Madness
I don't know about you, but I've certainly been inspired by Jen Hall's Mixed Media classes. In fact, I think I am developing a bit of an obsession with this new (to me) art form.
Although I am very much still in the dabbling phase, already I am finding that I'm looking at my supplies and projects in a new light. I'm reorganising my studio and have been "investing" in masks, mediums and all kinds of other goodies. I've begun my first art journal, as this seems to be the direction my "art" is heading. I had to chuckle at even writing that sentence. This from the woman who's high school art teacher once told her "clearly paint and brushes are not your thing"! I'm now kicking myself for the disinterest and am wishing I had listened more when she uttered explanations about "perspective and light sources". Last night, I even dreamt about mixed media; so to feed my latest obsession I have been out and about this morning hunting down some great books on the subject.
I enjoyed looking through them so much I thought I'd share with you here.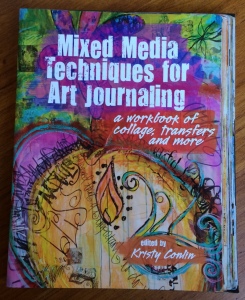 The first book is Mixed Media Techniques for Art Journalling, edited by Kristy Conlin (RRP $22.99). It is kind of a workbook and is jam-packed with information. Everything from testing materials and exploring colour to creating backgrounds, collaboration/round robin journals, and various techniques. There are more than 25 step-by-step demos and dozens of pages for planning, practicing and journalling inside the book itself.
My favourite project was in the chapter on making your own journals and covers. An awesome burnished metal covered album by the Creative Foundation's Vicki Boutin. I'm putting this one on my "Must Try" list.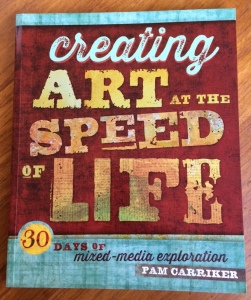 The second book is Creating Art at the Speed of Life by the very talented Pam Carriker (RRP $37.99). My head is still spinning from all the techniques and lessons in this book. It really is a bit of a workshop in a book. It covers seven important elements of art (probably the ones my art teacher droned on about): visual perspective, light and dark, colour, form, line, texture and shape. Basically a month long syllabus of art journalling elements, presented in a series of exercises. I particularly loved the chapter on achieving depth and dimension with grey and black and the section on creating pop-up pages.
Both books are distributed by Capricorn Link and could be ordered in at any bookshop.
So much to explore. I can't wait to get brush in hand and start playing with paint. I'm not sure if it is the rebellious teenager, deep inside me, that wants to prove my art teacher wrong or the little kid who wants to just play with messy stuff; but somehow I think this is just the beginning of a brilliant obsession.