In praise of online classes
Editor Note: It is my pleasure to announce that the wonderfully talented Natalie Elphinstone, who wrote today's blog post, is teaching our November card class! Check out the sneak peak of the project (above) you'll make during the class.
I've recently become a devoted fan of the world of online classes. Oh, I know they've been around for years, and I've dabbled in the occasional one from time to time (often not finishing them, if I'm being completely honest). But this year I've discovered a new love for the ease and convenience of learning a truck-load of interesting skills via online classes. It's true that the main prompt for this change of heart has been joining the Studio Calico Creative Team. I just never truly appreciated the broad spectrum of completely unique classes they offer there before. Studio Calico continues to debut at least one new class every month, and they're taught by some of the world's most well-known scrapbookers.
What I love best is that once you sign up you can really take it easy and do the classes at your own pace. You'll have access to them forever, so there's no need to get through the lessons today, this week or even this year. There's always a mixture of videos and PDF lessons, with lots of example projects and input from a host of other contributors apart from the main teacher. For those who are digitally inclined there is access to coordinated printables and cutting files, and for those who are up for a bit of a chat there are lively forums and chatrooms. But the most exciting thing is of course the plethora of new skills and techniques you'll learn. Can I share with you what I've gained through 4 of the (12!!) classes I've taken this year already?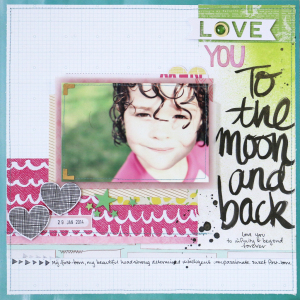 In January, I took the "Life | Scripted" class by the amazing Kal Barteski. Kal is perhaps best known in the scrapbooking industry by her brush script writing featured in the Amy Tangerine collection "Plus One". She let us in on many of her secrets about how to achieve a similar look. I've used her techniques on plenty of layouts since, most recently on "To the Moon and Back".
Life | Scripted has fast become one of Studio Calico's most popular classes which means they've left registration open indefinitely so you can still sign up and take the class today.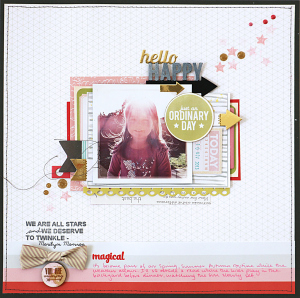 In March, I took "Color Studio" taught by Lisa Truesdell – the queen of colour matching. Working out great colour combinations has always been a weakness of mine and taking this class has taught me some of the fundamentals of better design. I'm not sure that there's just one particular layout I can say this class inspired. Every layout I've made since then has been influenced by what I've learned, and I'm sure you'll walk away from this class feeling the same way. "Hello Happy" is one example of a interesting colour combination that I might not have tried out beforehand. You can still register for this one too!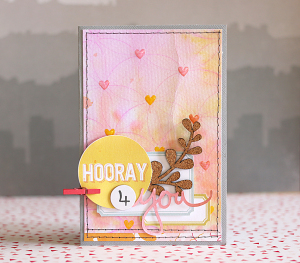 In April, I not only took the "Mixed Media" Class taught by the awesome duo of Celine Navarro and Anna-Maria Wolniak, but I also contributed to it. If you've ever wondered how to use things like gesso, gel medium, texture paste, Gelatos, Neocolours, inks and mists on your scrapbooking pages then this was the class for you. It's a little bit messy, but a whole lot of fun! I'm a big fan of these techniques and use them quite regularly but I still came away learning a whole lot more from this class. One of my most recent cards "Hooray 4 You" was created from what I'd learned. Registration for this class has unfortunately closed.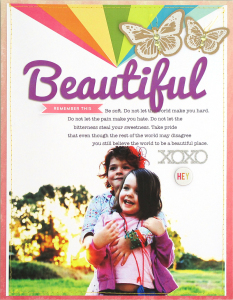 In June, I totally stepped out of my comfort zone by taking the "Digital | Beyond the Basics" class taught by Shanna Noel…. and it absolutely rocked my scrapping world! I don't think I'll ever consider myself a digital scrapbooker, but I'm now certainly confident enough to dabble in some hybrid layouts. Shanna makes it really easy to follow along with what might be considered quite foreign concepts such as using digital papers, digital stamps, digital templates and more. There are truck-loads of free digital files with this class so you can practice all your new skills. It's honestly changed the way I approach a lot of my layouts now, and whilst I'm still getting the hang of it, I really love the cleaner look of some of my new hybrid layouts like "Beautiful". Registration for this class is going to stay open indefinitely since it's such a foundational skill to add to your scrapbooking arsenal. You can find all the details here.
What's next you might ask? In September Maggie Holmes will be teaching a mini-book class called "30 Days of Me" which is going to be all about turning the camera around and shining the spotlight on yourself! This class was really popular last time and I think it's a really important topic so I can't wait for this one. At the completion of this class Maggie Holmes is actually stepping back from scrapbooking for a while to concentrate on adding baby No.5 to the family, so it might be the last chance to catch her in action for a while!
And after that?…. well I'm not sure exactly. But I am sure it'll be awesome. Maybe I'll see you in the classroom this November.